Smellwin Tongue Cleaner
Metal tongue cleaner against a white tongue and bad breath
Buy 4 for

$11.31

each and save

6

%
Order Today, Shipped *Today
Free Shipping Over $60
100% 30-day Money Back Guarantee
Shop with Confidence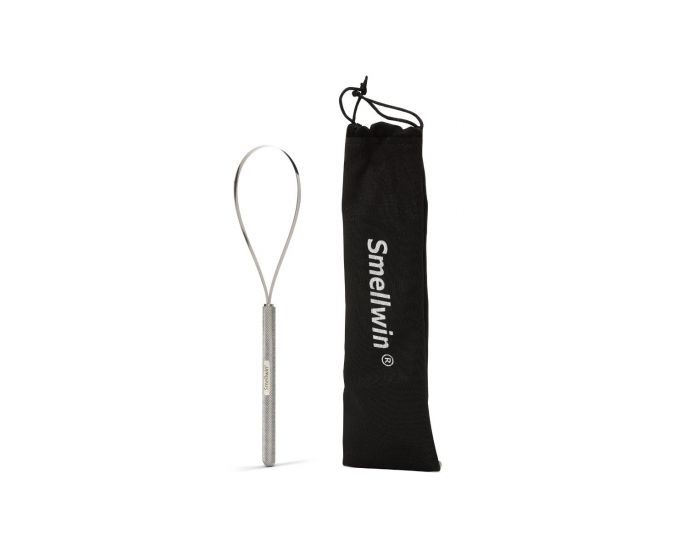 Smellwin Tongue Cleaner
Smellwin for a clean tongue and fresh breath
The Smellwin Tongue Cleaner is not just one of the most popular metal tongue cleaners in the world. Is is especially loved for its comfortable shape and sustainability.
This is how Smellwin differs from other tongue cleaners: 
Sustainable: while other plastic tongue cleaners have to be replaced every three months for hygienic reasons, Smellwin lasts for at least three years. 
Quick result: the scraping part is not sharp but finely rounded enough so that bacteria can be removed from the tongue very quickly and effectively.
Comfortable: the shape is designed in such a way that you can also reach the areas at the back of the tongue without gagreflex.
Why is tongue cleaning so important?
Approximately one third of the entire surface of the mouth consists of tongue tissue. Especially the top of the tongue can be compared to a high pile carpet. This ribbed structure creates a trap for food remains and bacteria.
If tongue plaque is not removed, there is a high risk of bad breath. How do I do this? Debris on the tongue is broken down by bacteria and converted into dimethyl sulphide and methyl mercaptan. The smell of this can be compared to rotting meat. At the same time, the presence of tongue bacteria increases the risk of taste fading, plaque and gum problems.
How can you prevent these problems?
With Smellwin. By cleaning the tongue with Smellwin, bacteria are removed in a pleasant way. After just a few brushings the quality of the breath will improve and the tongue will regain its pink colour.
 
How to use Smellwin? 
Look in the mirror and stick out your tongue
Place the tongue cleaner as far as possible at the back of your tongue  
Scrape off the gunk from back to front
Rinse your mouth with an antibacterial mouthwash based on active oxygen, such as Oxyfresh or The Breath Co. 
Repeat at least 2 times a day