Stimudent Wooden Toothpicks (5 x 25 pcs.)
Wooden toothpicks to remove plaque
Order Today, Shipped *Today
Free Shipping Over $60
100% 30-day Money Back Guarantee
Shop with Confidence
Combine and save:
$19.99 $17.99

10.01% discount
-$2.00 buying this bundle

1x

+

Oravall® Mouthwash

Order Today, Shipped *Today
Free Shipping Over £60
100% 30-day Money Back Guarantee
Shop with Confidence




Toothpicks + Mouthwash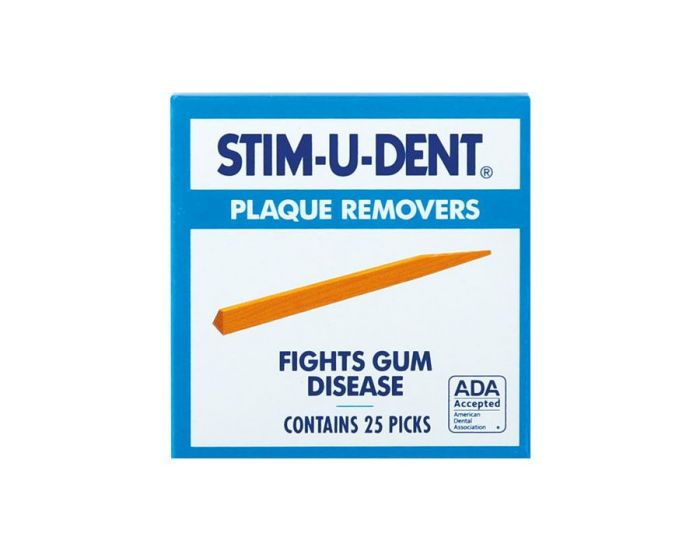 Stimudent Wooden Toothpicks
Removing plaque is important for preventing inflammation, cavities and bad breath. With the Stimudent Wooden Toothpicks it is easy to remove plaque and to prevent bad breath.
The Stimudent Wooden Toothpicks are soft and pliable and therefore fit precisely between the teeth. Due to its flexible action the Stimudent toothpick removes more plaque than other toothpicks.
Using Stimudent every day prevents plaque and massages the gums, which leads to better circulation and healthier dental tissue.
Usermanual Stimudent Wooden Toothpicks
Brush the teeth with toothpaste;
Moisten the Stimudent Wooden Toothpick by holding it in your mouth for a few seconds;
Stroke the broad side of the toothpick towards the gums between the teeth;
Move gently back and forth to remove plaque. Also gently take the gums with you, so that the gums are massaged which leads to healthier gums;
For the best result, rinse the mouth afterwards with OraVall Mouthwash;
Try to do this every day for the best oral health.