JuliBrite®️ At-Home Whitening Kit
Peroxide-free at-home teeth whitening kit with PAP formula
Order Today, Shipped *Today
Free Shipping Over $60
100% 30-day Money Back Guarantee
Shop with Confidence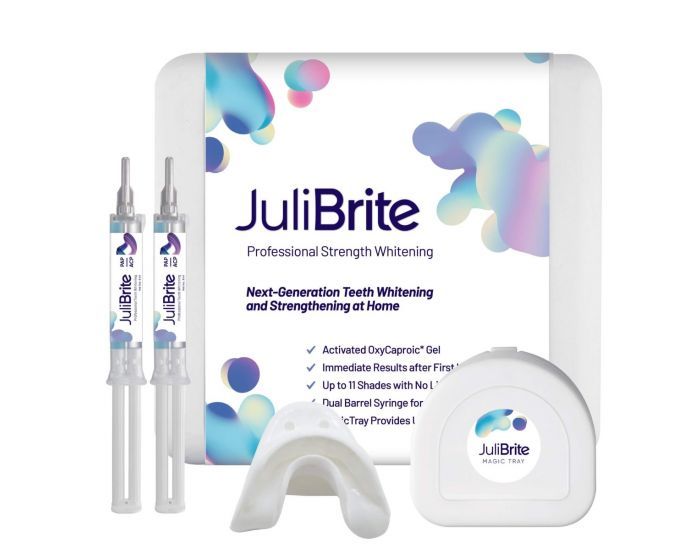 JuliBrite®️ Whitening Kit: up to 10 shades in 10 days
Do you want to make your smile perfectly white without spending too much money at the dentist? Do you care for the health of your teeth at the same time? 
Julibrite introduces the future of healthy and effective at-home teeth bleaching. Dual syringe gel, developed by the world´s leading teeth whitening expert Dr Giniger, takes care of whitening and remineralisation of your teeth at the same time. You need only 12 minutes to see immediate improvements and 10 days to see a stunningly white smile as a result. 
Why Julibrite®️ Illustra Whitening Kit?
✓ Peroxide-free - Hydrogen Peroxide was used as a teeth whitening agent around the world. However, because of its toxicity and harmful effect on oral tissue, the amount of hydrogen peroxide concentration was limited by the EU to up to 0.1% in at-home teeth whitening.
✓ PAP -PAP is a non-toxic, hydrogen peroxide-free whitening agent that has been scientifically proven to be effective for teeth whitening. PAP is as effective as hydrogen peroxide but does not cause any harm and it is not toxic.
✓ Remineralises your teeth - Dual syringe gel consists of a whitening element (PAP) and remineralising element (HAP) that prevents teeth sensitivity. Natural ingredients like Tricalcium Phosphate (ACP), Potassium Citrate and Hydroxyapatite are ensuring proper remineralisation of your teeth during the whitening process
✓ No LED light needed - LED lights in combination with peroxide-free teeth whitening gel hasn´t been proven to be effective. Moreover, LED lights can cause other harmful effects like irradiation, overheating resulting in damages in gums and tooth enamel, or teeth and gingival sensitivity.
✓ Up to 10 shades in 10 days - It takes only 12 minutes daily for 10 days to achieve teeth whiter up to 10 shades. Immediate improvement can be observed already after the first whitening.
✓ Effective and cheaper than a dentist - Julibrite whitening technology is very popular and has proven to be effective without the need to visit a dentist. Thanks to Julibrite you can gain fast and visible results for a great price.
✓ Less viscose gel - The dual whitening gel is not so thick as other whitening gels in order to ensure that it accesses even tiny spaces between the teeth. At the same time, thanks to its liquidity, it penetrates into the tooth structures and renders the brown molecules into colourless molecules what results in whiter teeth
✓ natural pH value - Dual syringe whitening gel has been developed by dental professionals to reach the acidity of 5.5 what is the same pH value as human saliva.
For a limited time only, you will receive a 10% discount when buying the Julibrite At-home Whitening Kit and the Moist-R Teeth Whitening Sponge together.
How to use JuliBrite®️ Whitening Kit?
1. Brush your teeth with a soft toothbrush & water ONLY prior to whitening treatment. 
2. Take the mouth tray out of the traycase. Locate the up arrow ↑ that is on the outer top part of the mouth tray. That part will touch your upper teeth.
3. Gently place your upper and lower teeth into the reservoir of the mouth tray with your teeth facing the soft silicone filter material. Make sure you are not biting into the silicone. Using fingertips, firmly press the mouth tray towards your teeth approximately 3 mm into the soft silicone filter to form the impression. 
4. After the impression is formed, gently remove the mouthguard to keep the newly formed impression intact. 
5. Remove the cap from the syringe by pulling it straight off. Place the mixing tip on the syringe and push straight on until secure. twist the mixing tip clockwise onto the syringe to lock it in place. 
6. Apply a thin line of whitening gel in your custom impression where the reservoir meets the soft silicone filter material on the upper and lower arches of your tray. See the diagram. Make sure not to overfill!
Immediately after applying whitening gel in your tray, remove the used mixing tip from the syringe before the next use. DO NOT reuse mixing tips.
7. To begin whitening treatment, place the mouth tray containing whitening gel back into your mouth and wear it for 12 minutes. While completing your treatment, spit out the saliva and whitening gel if needed. Make sure the whitening gel remains within your tray and does not come in contact with your gums or soft tissue. Should gel come in contact with your soft tissue, the irritation will be temporary and could last up to 20 minutes. 
8. After 12 minutes, remove the mouth tray and hold it under cold running weather to remove any remaining gel. 
Place the tray in a traycase until the next treatment. 
9. Brush teeth as usual with a soft toothbrush & toothpaste to remove the expired gel. 
Repeat steps 1 & steps 5-9 for each 12-minute application on the following days. Use for up to 10 days to achieve desired whitening results. 
Refrain from consuming dark coloured food & beverages, or smoking for a minimum of 4 hours after the JuliBrite whitening treatment. 
A recommended gap between complete treatments is ideally 2-3 months. Minimum gap between complete treatment is 1 month. 
What are the ingredients of the whitening gel?
Aqua - Natural universal solvent that helps with cleaning and stain removal
Glycerin - Natural ingredient from coconut that imparts sweetness, and gives the gel shine. It helps make teeth shiny also, as it is the major ingredient in lip gloss.
Phthalimido -peroxy-caproic Acid (20%) Whitens teeth without hydrogen peroxide. It is a very mild oxidizer that breaks up stain molecules, rendering them clear and invisible.
Sodium Acryloyldimethyltaurate/VP Crosspolymer - Thickener
Hydroxyapatite - Natural ingredient that protects and rebuilds teeth enamel
Tricalcium Phosphate (ACP) - Natural ingredient that protects and rebuilds teeth enamel
Potassium Citrate - Natural preservative that 

helps to relieve pre-existing sensitivity. It travels down into the tooth to provide the nerves with lasting protection from pain and sensitivity.

Sodium Saccharin - Sweetener
Piroctone Olamine - Gelling agent
Natural Mint Aroma - Natural flavour
Sodium Hydroxide - pH adjuster