Moist-R Moisturising Oral Spray (30 ML)
natural Dry Mouth Spray with a calming and hydrating effect on your dry mouth, tongue or throat
Buy 4 for

$11.31

each and save

5

%
Order Today, Shipped *Today
Free Shipping Over $60
100% 30-day Money Back Guarantee
Shop with Confidence
Combine and save:
$29.90 $26.91

10% discount
-$2.99 buying this bundle

1x

+




1*Moist-R Moisturising Oral Spray (30 ML) + 1*Moist-R® Healthy Bio Chewing Gum (60 pcs)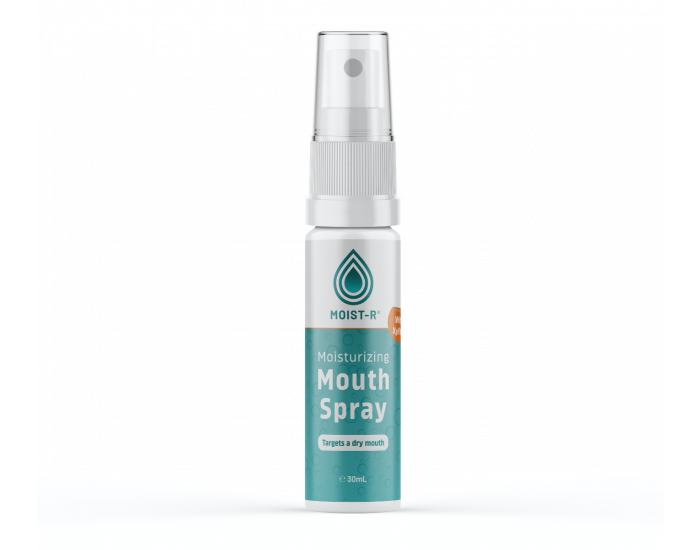 Moist-R Natural Moisturising Spray 
Moist-R is a moisturising, calming, healing and refreshing mouth spray that was specially formulated for those suffering from a dry mouth, dry tongue or dry throat.
10 Unique Features
Helps reduce dry mouth issues. Moist-R dampens the (irritated) dry tissues of the mouth in order to achieve an optimal feeling, offering relief in case of irritations as well as cuts and sores in the mouth, burning mouth syndrome, oral lichen planus, fissured tongue and white tongue.
Moisturising. Moist-R wets the mouth, creating a hydrated layer on the mucous membranes that lasts for several hours. It makes talking, swallowing and sleeping easier.
Increases saliva production. Moist-R helps the mouth to generate more saliva of its own. A natural flow of saliva is key when it comes to battling dry mouth issues.
Calming, healing and cooling. The formula helps to sooth irritated and dry tissues of the mouth, and to restore any cuts or sores.
Fresh breath. Moist-R Dry Mouth Spray helps prevent and neutralise unpleasant odours in your breath.
Clean tongue. The formula of Moist-R helps tackles the formation of a white coating on the tongue. Spray the back of your tongue 4-5 times and wait until it has absorbed the liquid like a sponge, cleansing the tongue.
Strengthens teeth. Xylitol reduces the risk of cavities, while the added calcium contributes towards stronger teeth.
Good, natural ingredients. Moist-R is an organic spray: it solely consists of unmodified ingredients and is free of sugar, alcohol, SLS and parabens.
Mild, non-corrosive, soft taste. Whereas most dry mouth sprays cause a biting or stinging sensation, the subtle minty taste of Moist-R has a soothing effect.
Neutralises acidity. Due to an absence of natural saliva, a dry mouth is usually sour. Moist-R neutralises the pH level in the mouth, thereby contributing towards a better overall oral health.
No good, money back: 100% satisfaction guarantee. For best results, use in combination with Moist-R Mouthwash, oral gel, chewing gum and toothpaste.
Usermanual Moist-R Moisturizing Oral Spray
Spray 3 to 5 times in the mouth, on the tongue, on the inside of the cheeks and at the back of the throat;
Try to keep the liquid in the mouth for at least 40 seconds before swallowing;
For a clean tongue: spray 4-5 times on the back of the tongue and let the spray soak in like a sponge to clean the tongue.
Moist-R Moisturizing Oral Spray can be used as often as necessary.
Ingredients Moist-R Moisturizing Oral Spray
Purified Water, Xylitol (hydrating and defuses acids) , Aloe Vera Concentrate (soothing and healing) Vegetable Glycerin ( Humidifier), Natural Spearmint Flavoring (freshens breath), Calcium Glycerophosphate (strengthens teeth), Cellulose Gum (makes the liquid viscous), Grapefruit Seed Extract (a natural preservative)
Free of alcohol, parabens, sls, sugar and cpc
NON GMO
What else can you do?
The following steps are important to combat dry mouth, tongue or throat:
Brush the teeth with a toothpaste without SLS;
Rinse mouth regularly with mouthwash for dry mouth, such as Oravall Mouthwash;
Use plenty of Moist-R Moisturizing Oral Spray during the day to keep the mouth moisturised;
Use Moist-R Chewing Gum to stimulate natural saliva flow.
At night, wear a chin strap such as TonSilFresh Dry Mouth strap to prevent sleeping with the mouth open