TonsilFresh Mouthwash (500 ML)
Contributes to the prevention of tonsil stones and bad breath
Buy 2 for

$24.31

each and save

3

%
Buy 4 for

$22.05

each and save

12

%
Order Today, Shipped *Today
Free Shipping Over $60
100% 30-day Money Back Guarantee
Shop with Confidence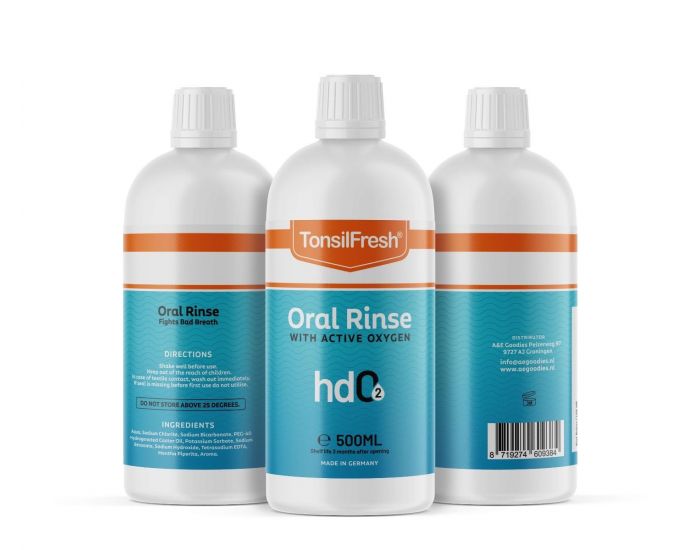 TonsilFresh Mouthwash
TonsilFresh Mouthwash takes care of the teeth, oral cavity and tonsils after brushing the teeth in a safe and effective way. The formula helps prevent tonsil stones, often a cause of bad breath (halitosis).
TonsilFresh Mouthwash cleanses the oral cavity and ensures structurally fresh breath. The mouthwash contains no sugar, alcohol or artificial colourings. Instead, TonsilFresh uses an active oxygen formula, which releases a high dose of oxygen into the oral cavity. Oxygen directly combats anaerobic bacteria, which thrive in the oxygen-free cavities in the mouth and produce a lot of sulphur gases.
Because TonsilFresh uses safe ingredients, the natural balance of the oral flora is maintained. As a result, the harmful bacteria are combated while the beneficial bacteria remain undisturbed.
TonsilFresh Mouthwash contains no alcohol, saccharin, Sodium Lauryl Sulfate (SLS) or other harmful ingredients.
Usermanual TonsilFresh Mouthwash
Brush your teeth with a toothpaste without SLS to achieve the best effect;
Then fill 1 cap with TonsilFresh Mouthwash;
Try to rinse for 2 minutes with the mouthwash. Gurgle deep into the throat, in particular, to bring the mouthwash into contact with the tonsil stones (sticking out the tongue may help).
TonsilFresh Mouthwash can be used 1-3 times a day.
Ingredients TonsilFresh Mouthwash
AQUA, PROPANEDIOL, SODIUM GLUCONATE, SODIUM BICARBONATE, HYDROGENATED STARCH HYDROLYSATE, POLOXAMER 407, SODIUM CHLORITE, XYLITOL, AROMA, POTASSIUM SORBATE, SODIUM BENZOATE, MENTHA PIPERITA (PEPPERMINT) OIL, TETRASODIUM EDTA,
What else can you do?
Use an active oxygen throat rinse to fight anaerobic bacteria, such as TonsilFresh or Oravall;
Keep plenty of saliva in the mouth, as saliva has a cleansing effect on the tonsil stones. Choose for example Dr. Katz Dry Mouth Lozenges or Moist-R natural chewing gum;
Anaerobic bacteria often hide at the back of the tongue. The risk of tonsil stones decreases when the tongue is cleaned every day, for example with OraPack;
In order to prevent anaerobic bacteria, and therefore tonsil stones and bad breath, from forming during the day, it is advisable to use TonsilFresh Mouth Spray regularly.