Julibrite®️ WaterFloss Tonsil Stones
Powerfloss for cleaning teeth, gums and tonsils
Buy 2 for

$16.96

each and save

15

%
Order Today, Shipped *Today
Free Shipping Over $60
100% 30-day Money Back Guarantee
Shop with Confidence
Combine and save:
$33.95 $30.55

10.01% discount
-$3.40 buying this bundle

1x

+




1*Julibrite®️ WaterFloss Tonsil Stones + 1*MiBrush Tonsil Stones Loop Extractor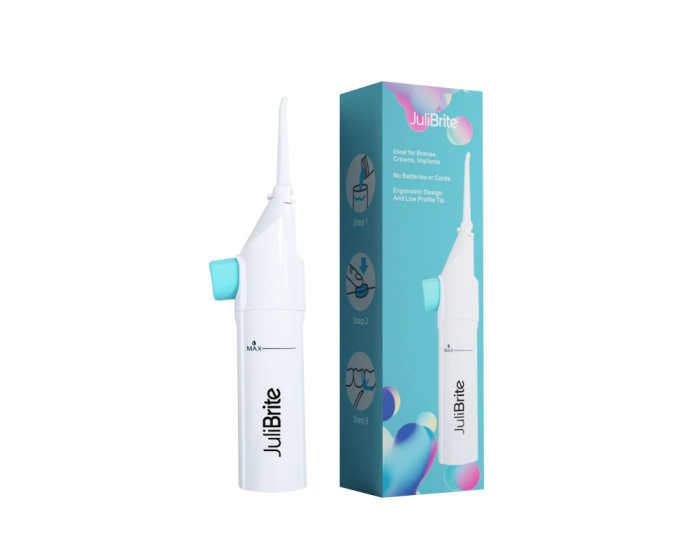 Why JuliBrite®️ WaterFloss?
The JuliBrite WaterFloss is a powerfloss to clean hard-to-reach places between the teeth and tonsils in a simple and effective way. There is a safe way to wash away tartar and leftover food so that the dentition stays clean. This prevents discomfort and oral problems.
Suitable for use in the shower due to the lack of electricity 

Oral irrigator, with which one can carefully rinse tonsil stones from the tonsils 

Also suitable for children 

Practical for cleaning braces 

Easy to use, no practice necessary
This is how the Powerfloss works 
With the Powerfloss you can clean your teeth using a water jet. The Powerfloss is particularly suitable for hard-to-reach places in your mouth, such as between elements of braces or between the teeth. The Powerfloss is operated with water and without electricity. You can therefore easily take the Powerfloss with you and even use it in the shower.
Wireless  
You fill the Powerfloss with water and then you can place the water jet between your teeth. The Powerfloss is completely wireless and does not require batteries: with the push of a button, you generate a jet of water that washes away tartar and leftover food.
No toothpick necessary 
With the Powerfloss, you never have to grapple with a toothpick or floss again to remove leftovers from between your teeth. Prevent small wounds by simply removing tartar and leftover food with a powerful jet of water.
Helps prevent dental problems 
You can be prevented from oral problems such as an infection of the gums, holes, and tartar formation by everyday usage. Although the Powerfloss only works on a water basis, this device can also be used to eliminate bad breath. Bad breath is often caused by tartar build-up or leftover food.
Wireless and no batteries required: powerful cleaning without electricity 

The water jet is powered by air: you decide how hard the water jet should be for thorough cleaning

Ideal for cleaning braces, which is hardly possible with a normal toothbrush or toothpick 

More ergonomic Handle, which simplifies use. 

Also suitable for children
What is the difference between other waterflosses? 
There are various aids with a comparative function such as that of the JuliBrite Waterfloss. Often, however, these devices are operated with electricity, for example with a cord. This is not only impractical but also often leads to a too powerful water jet.
A gentle but effective jet of water 
A hard jet of water is not only uncomfortable but can also lead to gag reflexes if you accidentally aim in the throat. In addition, the jet is uncomfortable with sensitive gums.
The advantage of the Powerfloss is that you can regulate the power of the water jet yourself. If you press the button with a lot of force, you get a powerful jet. If you press the button slowly, a gentle jet of water is generated.
Since the Powerfloss does not have to be charged or batteries are not required, it is an ideal aid when traveling: wherever you are, the Powerfloss is always ready for use.
Clean teeth and a radiant smile 
The Powerfloss contributes to clean teeth and a radiant smile. Only when you brush your teeth often tartar sticks between the teeth or behind the retainer, behind the braces or the crown. With the Powerfloss you can easily wash this away. You know for sure that your teeth will stay healthy and that you don't have to suffer from cavities, bad breath, or infected gums.
Since the Powerfloss does not have to be charged and no batteries are needed, you can wash your teeth every day without any effort. Powerfloss consumers reported that they got a cleaner, fresher mouth with daily use. 
How can I use the JuliBrite®️ Waterfloss?
JuliBrite WaterFloss is easy to use. Fill the reservoir with water and start cleaning. You can use the Powerfloss before or after brushing your teeth. It is possible that leftover food will loosen in your mouth afterward. Therefore, many people use Powerfloss before cleaning.
Let the reservoir of the Powerfloss air dry from time to time so that the device stays clean. Although it is not necessary, you may be able to use mouthwash in the Powerfloss.