GingiLab Dental Camera
Live camera with LED light and 360-degree rotation radius to detect plaque, tartar, cavities or dirt on the tonsils
Order Today, Shipped *Today
Free Shipping Over $60
100% 30-day Money Back Guarantee
Shop with Confidence
Combine and save:
$102.90 $92.61

10% discount
-$10.29 buying this bundle

1x

+

Dentek Profi Oral Care Kit

Order Today, Shipped *Today
Free Shipping Over £60
100% 30-day Money Back Guarantee
Shop with Confidence




1*GingiLab Dental Camera + 1*Dentek Profi Oral Care Kit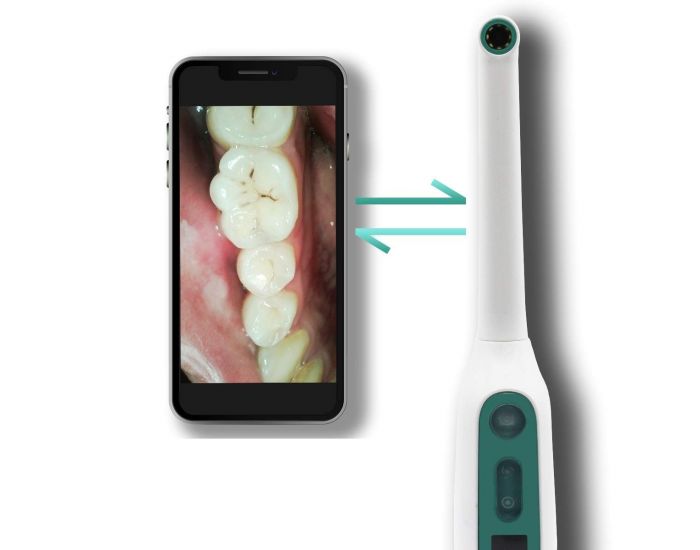 GingiLab Dental Camera
Are you sure you haven't missed any spots while brushing? Of course, the dentist can see exactly that at the semi-annual check-up, but now you can too! With this handy dental camera that can rotate 360 degrees, you can see the state of your teeth very accurately.
To measure is to know
With the GingiLab Live Dental Camera you can take pictures and videos of your entire mouth. Thanks to the high resolution of 2 million pixels, the magnification of up to 150 times and the bright LED light you can see everything in detail. You can immediately see the plaque in any missed spot, as well as the condition of your gums. The camera even detects tartar all the way down the back of your back teeth and accurately visualises debris coming from your tonsils. So take action right away before cavities and other inconveniences occur!
Convenient via Wi-Fi and App
The wireless camera works via Wi-Fi and is easy to charge. The built-in battery lasts for more than two hours non-stop. All output can also be linked to a handy and user-friendly app (available for iOS and Android).
Waterproof lightweight
The GingiLab Dental Camera is also waterproof. This means you can clean and disinfect it in boiling water before and after use. Last but not least: the camera weighs almost nothing, feels comfortable in your hand and you can take it everywhere with you: to every room in your house and
on holiday.
What's in the package?
GingiLab Dental Camera;
Charger;
USB cable;
Clear manual.
All features at a glance
Rotates 360 degrees;
High resolution: 2 million pixels;
1920*1080p image;
Magnifies up to 150 times;
Waterproof rating IP67;
With 8LED light;
Silicone anti-slip handle;
Linkable to app.
Usermanual GingiLab Dental Camera
The GingiLab Dental Camera works in combination with the app 'inskam'. Download the app from the App Store (iPhone) or Google Play Store (Android);
Turn the GingiLab Dental Camera on or off by pressing and holding the tooth icon for 3 seconds;
Go to settings and WIFI on your phone and search for the network 'inskam***-xxx';
Enter the password: 12345678;
Once you are connected to the network you can see live what you are filming in your mouth via the 'inskam' app;
Take a picture by clicking on the camera icon;
Make a video by pressing and holding the camera icon;
Under the camera icon you will see two signs for zooming in and out. The top one is for zooming in, the bottom one for zooming out;
The photos and videos end up in your photo album on your phone.
Please note
Should you not find the network, please check the GingiLab Dental Camera's battery and charge it with the charging cable if necessary;
Should the pictures and videos not end up in your photo album, please go to settings and give 'inskam' access to your photo album;
If you get a message asking if you want to connect to a better WIFI network, please refuse.